The This Works Deep Sleep Pillow Spray claims to help you fall asleep faster, naturally and wake up more refreshed. I have been using it for a few months now and pardon the pun but, it works! It works really, really well actually.
I was in bed one night and I'd say it was the third night in a row I struggled to get to sleep. I just couldn't stop my mind racing and the more I looked over at himself snoozing the more annoyed I got. I decided to do a little online shopping (as you do) but rather than buy makeup or clothes I bought the This Works Pillow Spray from Meagher's Pharmacy.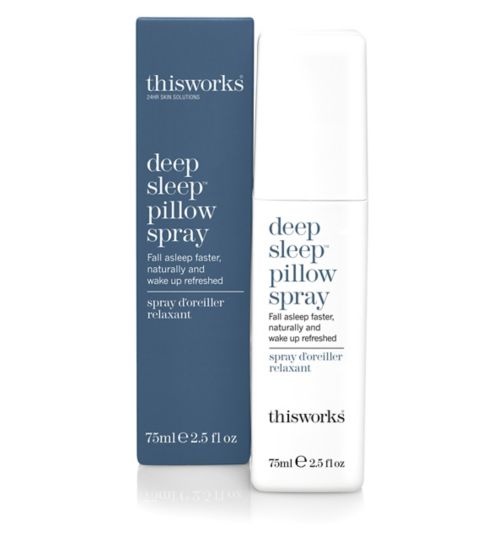 It arrived shortly after and I began using it immediately. For me, it makes a huge difference. I (thankfully) have a very busy, mentally taxing and fast paced job and a busy home life on top of it. The pillow spray just relaxes me. It helps me unwind and drift off to sleep. It didn't smell at all like how I expected, it actually smelt way better. I thought there would be a very overpowering scent of lavender but there really wasn't. I mean yes you can smell lavender but it is very subtle.
In addition to essential oils of Lavender the this works deep sleep pillow spray also contains wild chamomile and vetivert. Wild chamomile helps to create an inner peace while vetivert aids nervousness, anxiety, sleep (obviously) and much more. I don't use the pillow spray every single night. I only use it on nights when I need a little help unwinding or
nodding off. I personally have had a great experience with it and recommend it whole heartily.
The This Works Deep Sleep Pillow Spray is available right here on the Meagher's Pharmacy.