Kylie Jenner Lip Kit
IMAGE CREDIT: www.cosmopolitian.com
So first on my wishlist is the much saught after Kylie Jenner Lip Kit. Like I want one in particular the shades Posie K, Candy K and Mary Jo K. The only reason I haven't ordered one is because the threat of customs scares the bejayney out of me. Maybe if someone I know or love is reading this and is going to america soon they could let me know...
Charlotte Tilbury Magic Foundation
The want I have for this foundation is very real!! It has been so hyped up and so raved about by fellow bloggers and makeup artists that curiosity really is killing me. The only thing holding me back from purchasing it is the twenty something bottles of foundation already in my collection. Surely one more wouldn't hurt?
BECCA Backlight Priming Filter
IMAGE CREDIT: www.beccacosmetics.com
Jen from Too Dolly Makeup and Ellen from Waxperts are to blame for me lusting for this primer. After seeing how dewy and glowy their skin looks after applying it on Snapchat is what has made me add it to my wishlist. It's intention is to give that lit from within look and Cult Beauty have dubbed it ''a photographic filter in a bottle.'' The BECCA Backlight Priming Filter needs to get on my face pronto!
Buff And Blend Pretty In Pink 8pc Professional Brush Set
IMAGE CREDIT: www.buffandblend.com
So not strictly makeup but still makeup related is the Buff And Blend Brush set. Do I need more brushes? No. Can I afford more brushes? Hell no. Do I want more brushes? Hell yes and these babies look amazing. The fact that Sinead from The Beautiful Truth Blog is a big fan is reasoning enough for me! Maybe I will ask Santy for them but then again can I wait five months??
Too Faced Chocolate Bar Palette
IMAGE CREDIT: www.toofaced,com
This palette full of browns, pinks and plums both matte and shimmer is high up on my wishlist. I have seen this in person a few times and not only does it look gorgeous but it smells like chocolate!! The shades Milk Chocolate, Cherry Cordial and Triple Fudge need to get on my eyelids right now.
Urban Decay Vice Lipstick
IMAGE CREDIT LEFT: www.leopardprinteverything.com
IMAGE CREDIT RIGHT: www.temptalia.com
I feel like if I saw the complete Urban Decay Vice Lipstick collection I would fall down dead or atleast pass out from excitement. That right there is an incredible 100 lipsticks!! Any of you who have been following my blog a while now will know I am a huge fan of Urban Decay. I have a few of these Vice lippies in my makeup bag already and I am loving Balktalk and Pandemonium amongst others. I think I may get on to the credit union about a loan for these bad boys.
The Bronze Palette | Kyshadow Kit
IMAGE CREDIT: www.kyliecosmetics,com
I know, I know Kylie Jenner again for the second time in one post BUT look at that palette... is it not gorgeous? Kylie showcased the latest addition to her collection on snapchat recently and beauty addicts all over the world went crazy for it. Apparently it sold out completely in thirty seconds. That is insane!!
Kat Von D Shade And Light Face Contour Palette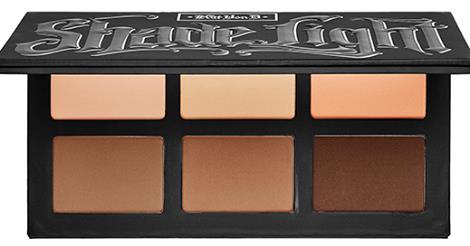 IMAGE CREDIT: www.katvondbeauty.com
In the past month or so it was confirmed that Kat Von D Beauty will be coming to Debenhams in both Ireland and the UK later this year. I have been using her tattoo liner for a while now and the only explanation for how good it is would be that it was made by the gods!! As soon as it becomes available the shade and light contour palette is top of my shopping list.
Anastasia Beverly Hills Glow Kit
IMAGE CREDIT: www.thegloss.com
I have spotted these palettes on a lot of beauty blogger and makeup artists snapchat stories and not to state the obvious but ohh my God the glow off them is insane!! They are literally metallic and give the most incredible highlight. As far as I know they are only available in America but who knows... maybe someday they will make an appearance in Ireland.
Catrice Velvet Matte Lip Cream
IMAGE CREDIT: Catrice Cosmetics Press Release
Literally as I was working on this post information and imagery landed in my inbox all about gorgeous new products that are coming soon from Catrice Cosmetics. I am particularaly excited about these Velvet Matt Lip Creams and the best part is they are retailing at only €3.50 each. I have both my eyes peeled for them.
So I hope you all enjoyed reading about all the makeup and beauty products I am lusting after. Let me know yours in a comment below or at any of my social media accounts.