Recently I attended a makeup masterclass with Urban Decay And the insanely talented Danielle Roberts. The masterclass was held out of store hours therefor making the whole experience more intimate and enjoyable.
Danielle demonstrated a in great detail a summery look with bold, daring eyes. I picked up so sooo many tips and tricks along the way which I will list below. During the demo I saw one of my fellow bloggers Shell from Shell La Belle Blog taking notes and thought "Ohhhh good idea" because my baby brain and I would forget atleast half!
Firstly she talked us through the B6 Vitamin-Infused Complexion Prep Spray which to be honest is a product I never really paid attention to and after hearing all about it last night I really want it. Danielle explained how it preps the skin for makeup application, it minimises pores and it also helps to fight blackheads and blemishes so definetely one for me to consider.
B6 Vitamin-Infused Complexion Prep Spray.

RRP €14.00 30ml
Next was the brand new Urban Decay One And Done Tinted Moisturizer from the Urban Decay Getaway collection. Danielle applied it to the models skin and I was amazed by just how much coverage this product has. I would say it has a medium coverage so more than enough for the Spring Summer months. I always wear quite a full coverage foundation but this Summer I think I will take a step back and give this a go! It is available in six very varied shades so call into your nearest counter for a colour match.
Urban Decay One And Done Tinted Moisturizer.
RRP €32.00 40ml
IMAGE CREDIT: www.glamistic.com
The next product up for discussion was the infamous Urban Decay Naked Skin Weightless Complete Coverage Concealer. I have repurchased this product soooo many times. It is without doubt my holy grail concealer. Last night I learned the my favourite concealer contains Japanese red tea which helps to combat redness and it also boasts anti-aging peptides which is so super important from your twenties onwards. This concealer is €22.00 very well spent!!
Urban Decay Naked Skin Weightless Complete Coverage Concealer.
RRP €22.00
Another new addition to the Urban Decay family is three gorgeous new Urban Decay Afterglow Highlighters, Sin, Fireball and Aura. Sin has a really golden, champagne shade with warm undertones. Fireball Is a peachy orangey shade with strong yellow tones and Aura is an iridescent light pink with cool undertones. Danielle suggested that the next time we highlight we should spritz our skin with our setting spray, just once or twice and it will lock the highlight onto our skin therefor increasing longevity and also intensify the results.
Urban Decay Afterglow 8-Hour Powder Highlight in 'Aura'.
Urban Decay Afterglow 8-Hour Powder Highlighter in 'Fireball'.
Urban Decay Afterglow 8-Hour Powder Highlighter in 'Sin'.

Urban Decay Afterglow Highlighter €28.00
Possibly my favourite piece of advice of the night was to give highlighting and contouring the boot and introduce sculpting and strobing to our makeup routine. Now I LOVE a cream highlight and contour but I think now that the weather is starting to warm up a little I might reserve it for night time looks and give the sculpting and strobing a go for daytime friendly looks. To achieve this sculted and strobed look Danielle first used the new Urban Decay Beached Bronzers and then the fireball highlight. The new bronzers are available in two shades, sunkissed and bronzed. Sunkissed has peach undertones and is definetely for someone with pale skin. Bronzed is much stronger and would suit someone with a darker skin or someone like me who loves wearing fake tan. The bronzers are so soooo soft and blendable to perfect for contouring/sculpting. The Bronzed shade is 100% on my UD wishlist.
Urban Decay Beached Bronzer in 'Bronzed'.
Urban Decay Beached Bronzer in 'Sun-Kissed'.

Urban Decay Beached Bronzers RRP €29.00
To create more defined but natural looking brows Danielle recommends using three things, a pencil, a gel and a wax. This helps to ensure the brows have different textures and that they aren't just one big block of colour. She achieved the brows below using the Urban Decay Brow Beater, the Urban Decay Brow Box and the Urban Decay Brow Tamer Gel. Once you have them shaded in Danielle recommeded tiding them up with a concealer so that the shape is perfect and super defined. Honestly, I had MAJOR brow envy of her model. I have all the products she used to achieve the perfectly manicured brows so I need to get them out and sort out my brows!!
Urban Decay Brow Beater €18.50
Urban Decay Brow Tamer Gel €18.50
Urban Decay Brow Box RRP €25.50
Following this we moved onto eyes and it goes without saying that the first product applied was the iconic Urban Decay Primer Potion in the shade Eden. You may not thing you need an eyeshadow base but honestly it makes the world of difference. We have all worn eyeshadow that creased on us or eyeliner that went a bit astray but by using the Primer Potion it stops that happening. It holds not only your eyeshadow but your eyeliner and mascara in place all day long. The primer potion is available in a few variations. There is Original, Eden, Minor Sin, Enigma and Anti-Aging. Urban Decay Mahon counter manager Shirley informed us that the minor sin can be used alone on the lid with just a little mascara for a basic, quick and fresh look.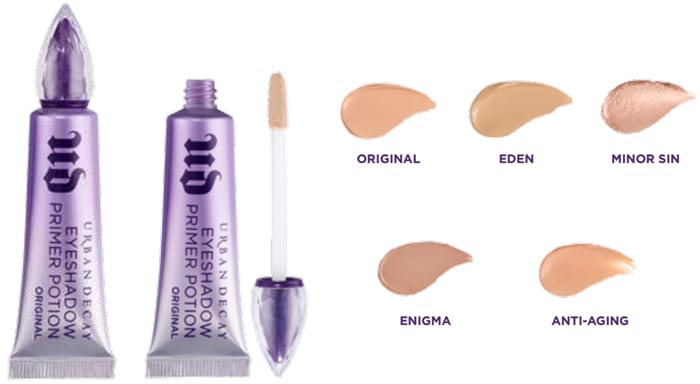 Danielle chose to use the limited edition Vice 4 palette for her eyeshadow look and used two of my favourite shades 'Bitter' and 'Flame' to create a subtle but gorgeous burnt orange smoked out eye. For finishing touches she bravely added a bold blue eyeliner and of course the Urban Decay Perversion mascara. For best results perversion should be used with its partner in crime the Urban Decay Subversion Primer. Danielle described Subversion as expanding foam for your lashes. It essentially coats them and fluffs them out therefor making the bigger and fuller when you apply your Perversion.
Urban Decay Vice 4 Palette RRP €49.00
Urban Decay Subversion Primer RRP €19.00
Urban Decay Perversion Mascara RRP €22.00
When we were leaving we were gifted with gorgeous goodie bags and I made only one purchase. I picked up the Afterglow Highlighter in Aura. I had to!! I don't actually own a highlight like it so I needed it you could say!! I don't think I can be near an Urban Decay counter and not purchase something.
Thank you to Danielle for a fantastic masterclass, to Shirley and her team in Urban Decay Mahon and to my fellow Cork bloggers for all the chats and fun.
#UrbanDecay #UrbanDecayCosmetics #UDIreland #DanielleRobertsMUA